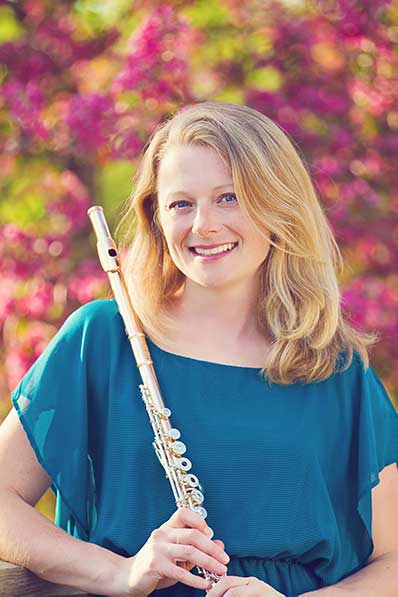 Christina Condon enjoys having a multi-faceted career as pedagogue, soloist, orchestra musician, and clinician. She has gained inspiration from her primary teachers, Randy Bowman, Jill Felber, Diane Gilley, Leslie Maaser, and Pamela Endsley and from masterclasses with notable performers such as James Galway, Marianne Gedigian, Jill Felber, Claudia Anderson, Angeleita Floyd, Jan Gippo (piccolo), Ervin Monroe, and Bonita Boyd. Christina has performed on flute/clarinet/saxes for over 40 musical theatre orchestras, including the Festival Playhouse, Showbiz Players, and Muse Machine of Dayton.
Christina maintains a competitive flute and clarinet studio in Centerville, Ohio. Her students have placed in several national flute solo competitions such as with the National Flute Association, Flute Society of Kentucky, and the Firebird Chamber Ensemble. Her flute and clarinet students have been accepted into music programs at schools such as the College-Conservatory of Music at the University of Cincinnati, University of Illinois Urbana-Champaign, Ohio State University, Miami University, and Ohio University. Her students' flute ensemble have performed at the Central Ohio Flute Association convention at Ohio State University and local churches and nursing homes. Christina also directs one of the New Horizons Band ensembles through the University of Dayton Music Department.
Christina Condon has a unique and distinctive background, as her music studies included extensive experience on multiple instruments at a young age. Her love for music began with recorder at age 9. Upon beginning in the school band, Christina began with flute and with the encouragement of her band director, Julie Canaday, she proceeded to learn trombone, trumpet, clarinet, saxophone, euphonium, and oboe and played them in the school's concert bands, OMEA Honor Band, and OMEA Honors Jazz band before finishing 8th grade.
The foundations for a musician with a strong background on multiple instruments continued in high school for Christina where she played trombone, flute, oboe, alto saxophone, and French horn in her high school's ensembles and sang in the choir. At age 16, Christina continued her formal flute studies with Ms. Diane Gilley. She was also 2nd trombone in the Springfield Youth Symphony and 2nd trombone in the Dayton Philharmonic Youth Orchestra. Not to be outdone by her brass accomplishments, Christina performed with the Muse Machine of Dayton's pit orchestra for their annual musicals on flute, piccolo, clarinet, and alto sax all throughout high school under the direction of David Düsing. While still in high school, Christina continued her flute studies at Wright State University with Dr. Leslie Maaser and clarinet studies with Dr. Randall Paul.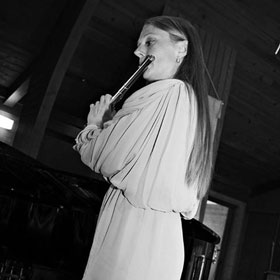 Christina's music studies continued at Wright State University focusing on flute and clarinet. She played both in the top ensembles, sang in the top vocal ensemble, and played trombone in trombone ensemble. As a sophomore with a passion for music and the German language, she was awarded a scholarship to attend the International Handel Festival in Göttingen, Germany for the week-long early music festival. The following year, Christina was again awarded a study abroad scholarship for the RENEUUS program, a semester long study beginning at the Goethe Institut Berlin and completed at the Fachhochschule Jena in Jena, Germany. During her time studying at Wright State University, Christina was the only music student to become a paid professional musician for the Wright State University musical theatre program's pit orchestra, playing flute, piccolo, recorder, clarinet, bass clarinet, and alto saxophone.
After completing her undergraduate studies, Christina completed her PreK-12 Music Teaching certification at the University of Dayton in 2006. During this time, Christina performed on woodwinds for many churches and orchestra pits, sang in the Westminster Church Choir and the Bach Society of Dayton, and developed her private music studio of flute and clarinet students.
Since 2005, Christina has maintained a high-level music studio of flute and clarinet students of all ages and been an active free-lance musician on woodwinds. She has performed for the Festival Playhouse Orchestra, Showbiz Players in Cincinnati, Springfield Arts Council, the Kettering Adventist Orchestra, the Boarshead Feast, amongst many others. As a dedicated educator, Christina has continued her flute studies after college with Randy Bowman, Jill Felber, and Dianne Gilley and performed on master classes with Sir James Galway, Jan Gippo (piccolo), Jill Felber, Marianne Gedigian, Ervin Monroe, and Bonita Boyd.
Christina accepts students of all ages and levels of playing, with focus on students that want to learn at an advanced pace. Her teaching incorporates goal-oriented learning, targeted practice techniques, and planned, organized practice. Students receive weekly one-on-one individualized lessons to customize learning and home practice to achieve their goals. Other studio activities include monthly performance classes, workshops, recitals, and ensembles.
In her free time, Christina enjoys inline speed skating with her husband, Bill Numerick, and traveling to races and skating events across the country. She currently skates for Speed Revolution, an organization committed to promoting women speed skaters by highlighting good sportswomanship, promoting women's races, and providing support to help them achieve their goals.